About
The modern day Chamber is a not-for-profit proactive and progressive organisation that works closely with business and industry groups, councils and other key industry bodies to promote economic prosperity.
Our vision is one of working together to promote and support local business and industry – continually identifying opportunities for existing and new businesses. We strive to make Dalby a better place to live, work and do business.
The Chamber is managed by a Chamber Board that is made up of voluntary representatives from a range of local businesses and organisations.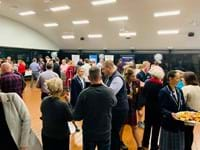 Chamber Initiatives
In addition to the projects managed by the Chamber's sub-committees, the Dalby Chamber also undertakes numerous ongoing events and programs which include:
Social and informative networking functions that are hosted at a member business on the first Wednesday of each month. As well as updating members of what is happening within the Chamber, Business After Hours provides for informal networking with the opportunity to go "behind the scenes" or to showcase what's new in our business community.
Business Before Hours Breakfasts
These are held bi-monthly with informative guest speakers who are carefully selected to provide up-to-date information for local businesses
Building Business Capability Chamber
Has a focus on assisting Members develop an individual Business Capability Statement that can be used to support them in developing the potential to supply goods and services in a range of environments. These services provided by Dalby Chamber of Commerce and Industry are funded by the Australian Government.
Training workshops
Usually held monthly and are centered on the theme of Building Better Business – Dalby Style. le. Each year there is a workshop on each of the following topics which are related to the Business Excellence Awards criteria:
Leadership

Strategic Planning

Using Information & knowledge

Customer and Market Focus

Process Management & improvement

People

Success & Sustainability
Local Street Map Up-to-date
Accurate and widely distributed, the Dalby Street Map is produced by the Chamber and is a valuable tool for both locals and visitors.
The Exceptional Service Award
Awarded monthly. This Award is designed to acknowledge the provision of exceptional service and contribution within the workplace, to work colleagues, customers and business personnel as well as the general public.